Disponibile per iPad e iPhone.
L'app è in 3 lingue: italiano, inglese, francese.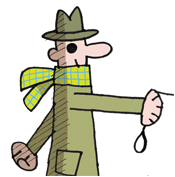 Descrizione
C'è chi sceglie il proprio compagno di vita perché trova che gli assomigli, perché lo accompagna, lo rappresenta, lo rassicura, lo segue, lo adora o semplicemente lo diverte un po'. Tira il guinzaglio e scopri a chi si accompagnano questi buffi personaggi. Ognuno di loro nasconde qualcosa di speciale. Una cosa è sicura: a ciascuno il suo.
Caratteristiche
12 pagine illustrate dall'autore internazionale Davide Calì
Interattività e suoni in ogni pagina
Indice grafico delle pagine
Libro consigliato a partire dai 5 anni di età.
Riconoscimenti
Recensioni
---
Each to his own!
Available for iPad and iPhone. The app is in english, italian and french.
Description
There are those who choose their partner in life because they think that he is like them, because he follows the path of life with them, or he reassures them, he loves them or simply amuses them. Pull on the lead and discover who accompanies these funny characters. Each of them is hiding something special. One thing is certain: each to his own.
Features
12 pages illustrated by the international author Davide Calì
Interactivity and sounds on every page
Graphic index
Book recommended from age 5.
Rewards
Reviews
---
À chacun le sien!
Disponible pour iPad et iPhone. L'app est en 3 langues: français, italien, anglais.
Description
Il y a ceux qui choisissent leur compagnon parce qu'il leur ressemble, d'autres parce qu'il les représente bien, les rassure ou les suit partout, d'autres encore parce qu'il les amuse. Tirez sur la laisse et vous découvrirez qui accompagne ces drôles de personnages. Chacun d'eux cache quelque chose de spécial Une chose est sûre : à chacun le sien
Caractéristiques
12 pages illustrées par Davide Cali, auteur italien de livres pour enfants de renommée internationale
Interactivité et sons à chaque page
Index graphique
Livre conseillé à partir de 5 ans.
Récompenses
Présentations
15/02/2014, espacenumeriqueaulnay.blogspot.it, (file jpg)
26/06/2013, declickids.fr, (file jpg)
11/03/2013, applimini.com, (file jpg)
03/2013, mediatheques.villeurbanne.fr (file jpg)
19/02/2012, www.ipadou.com
18/02/2012, www.tablette.com
17/02/2012, www.applicationiphone.com
16/02/2012, www.ipad-apple.net
08/02/2012, www.trackerapps.org